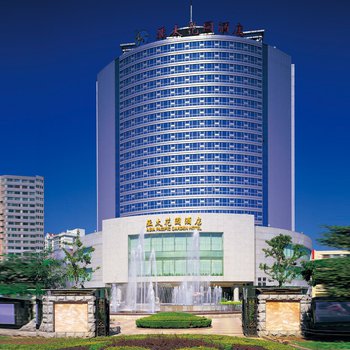 Beijing Asia Pacific Garden Hotel is a four-star hotel evaluated by China Tourist Hotel Star-Rating Committee, which is located in No. 103 of West Yuqiao Road, Tongzhou District—Sub-center of Beijing. It is located at the east extension line of Chang'an Avenue and 10 minutes' drive from the administrative office area of the sub-center of Beijing, 5 minutes' drive to Universal Beijing Resort,15 minutes' drive to CBD and 50 minutes' drive to Beijing Capital International Airport. The bus terminus of Tongzhou sub-line of airport shuttle bus is set in the yard of the Hotel. The Hotel is next to Liyuan Station of Batong Line. You can arrive at the Hotel by taking the bus No. 668 which departs from Beijing Railway Station, and the hotel is also on the route of several other buses such as bus No. 806 and 647, etc. You can drive directly to the Hotel through Jing-Tong Highway orGuangqu Road. The Hotel is close to Liyuan commercial street where Roosevelt Square, Guiyou Mansion and Blue Island Tower arelocated, with convenient transportation and good location.
The Hotel boasts 270 suites of various types with high speed Internet, complete facilities, and quality supplies.
Beijing Asia Pacific Garden Hotel obtains a series of great honors: "Green Tourist Hotel at Gold-Leaf Level", "Capital Tourist Forbidden City Cup Advanced Group", "Capital Civilized Service Demonstration Window", "Capital Safe Demonstration Unit", "Beijing Tourist Standardization Demonstration Unit", "Beijing Harmonious Labor Relationship Unit", "Beijing Top Ten Popular Brand Hotel", "Best Business Hotel", "Beijing Energy-Saving Star Hotel", etc. Meanwhile, the Hotel is also the designated procurement unit of central party and state organs, the governments of Beijing and Tongzhou district. The famous brand hotel will ensure that each customer get international services.